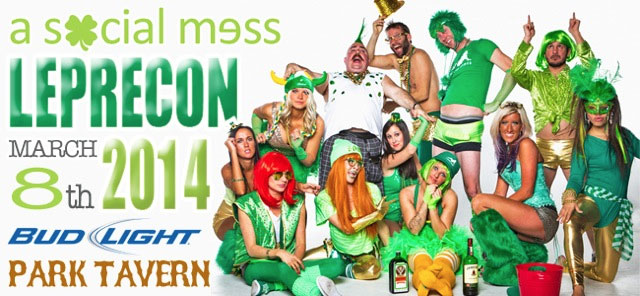 500 10th Street NE
Atlanta, GA 30309
A Social Mess

presents the 4th annual LEPRE*CON 2014!
Last year we has a small gathering of 4000 people and this year we are going large! Saturday, March 8th at Park Tavern: 3 pm 'til the Irish win a football game. The Spring Break Stage is BACK and we are making the contest more illegal + full of debauchery. We are also bringing in Panama City Beach hoopla because they can party. This is the St. Patrick's day party of all parties. Ireland will be closed, as they all will be at the Park Tavern. Wait till you see who we have hosting this beast! Oh lawd. Wear green, wear chaps, wear Bud Light, wear chains, wear your mother – we don't care.
Get your ticket now because we have to shut off presale tickets at 2000 ('til we know the weather permits!).
Rules are rules, man. CONTESTS, DJS, HALF NUDE CHICKS, WET TSHIRTS, BUD LIGHT, SHOTS, BUNIONS, FOAM PIT and real bull riding if Park Tavern allows it.
Leprecon is #where2go
TIX:
https://www.xorbia.com/e/asocialmess/leprecon-2014